Baton Rouge, the growing capital of Louisiana, is getting more and more like New Orleans, but it doesn't have the hustle and bustle of a tourist spot.  The metro area is warm all year and is right on the Mississippi River. 
It moves at a suburban pace, but it also has the opportunities of a thriving cultural hub. Baton Rouge is known for its competitive jobs in engineering and health care. This gives newcomers a lot to look forward to. Since Louisiana State University is in the city, college sports fans tend to stick together. 
In some parts of Baton Rouge, there is a lot of building going on because the city's population keeps growing. New homes and stores are being built all the time, and trendy bars and Southern-style restaurants keep opening at a rate that's just fast enough to meet the needs of the people who live there.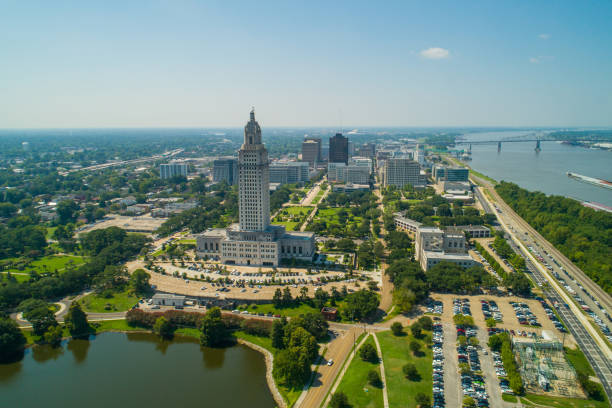 In the fall, there are a lot of LSU football fans in Baton Rouge. They go to "Death Valley," as Tiger Stadium is called, to cheer on their SEC team. There are also many places to shop in the metro area, such as the boardwalk-style Perkins Rowe. The Old State Capitol, which looks like a castle, and the Fletcher-class destroyer USS Kidd are all close to each other. 
The Baton Rouge Zoo is north of the city centre and has many different kinds of animals on display. There are golf courses, parks, playgrounds, running paths, and dog parks in the area. People also like to fish in the nearby waters of the Gulf and go hunting at one of the many hunting grounds in the area. 
Raising Cane's River Centre is right on the Mississippi River and hosts concerts and other events. Downtown, Third Street is lined with bars and restaurants where people can spend the night. 
Most of the year in Baton Rouge, high temperatures and high humidity make it feel like summer. In December and January, when it cools down for a short time, the weather is mild. Flooding happens sometimes in the metro area. Living in Baton Rouge isn't too expensive compared to other big cities in the U.S, and it's even a little cheaper than New Orleans. 
The cost of living here is pretty close to the average for the whole country, though. The average price of a home in Baton Rouge is less than the average price across the country. Also, the state and local income taxes in Louisiana are low, and Social Security benefits are not taxed. 
This makes Louisiana one of the least tax-heavy states in the country. You need a car if you live in Baton Rouge. The Capital Area Transit System (CATS) has bus service, but it isn't very good. There are some taxis and ride-sharing services like Uber and Lyft in the area, though. Because there are so many drivers, there is a lot of traffic, especially in the morning and afternoon. 
Baton Rouge has a programme for people who want to ride their bikes around town. The small Baton Rouge Metropolitan Airport is less than 10 miles north of downtown. American Airlines, United Airlines, and Delta Air Lines all fly to and from this airport. 
Still, people often choose to drive the 70 miles to Louis Armstrong New Orleans International Airport, which has more flight options. There are also long-distance bus companies, like Greyhound, that stop in Baton Rouge. 
Baton Rouge is home to people of all ages, from retirees who grew up in the area to young families just starting out to college students at LSU, Southern University and A&M College, or Southeastern Louisiana University. 
Even though there are many middle-class and upper-middle-class families in Baton Rouge, a large number of people in the area live in poverty.